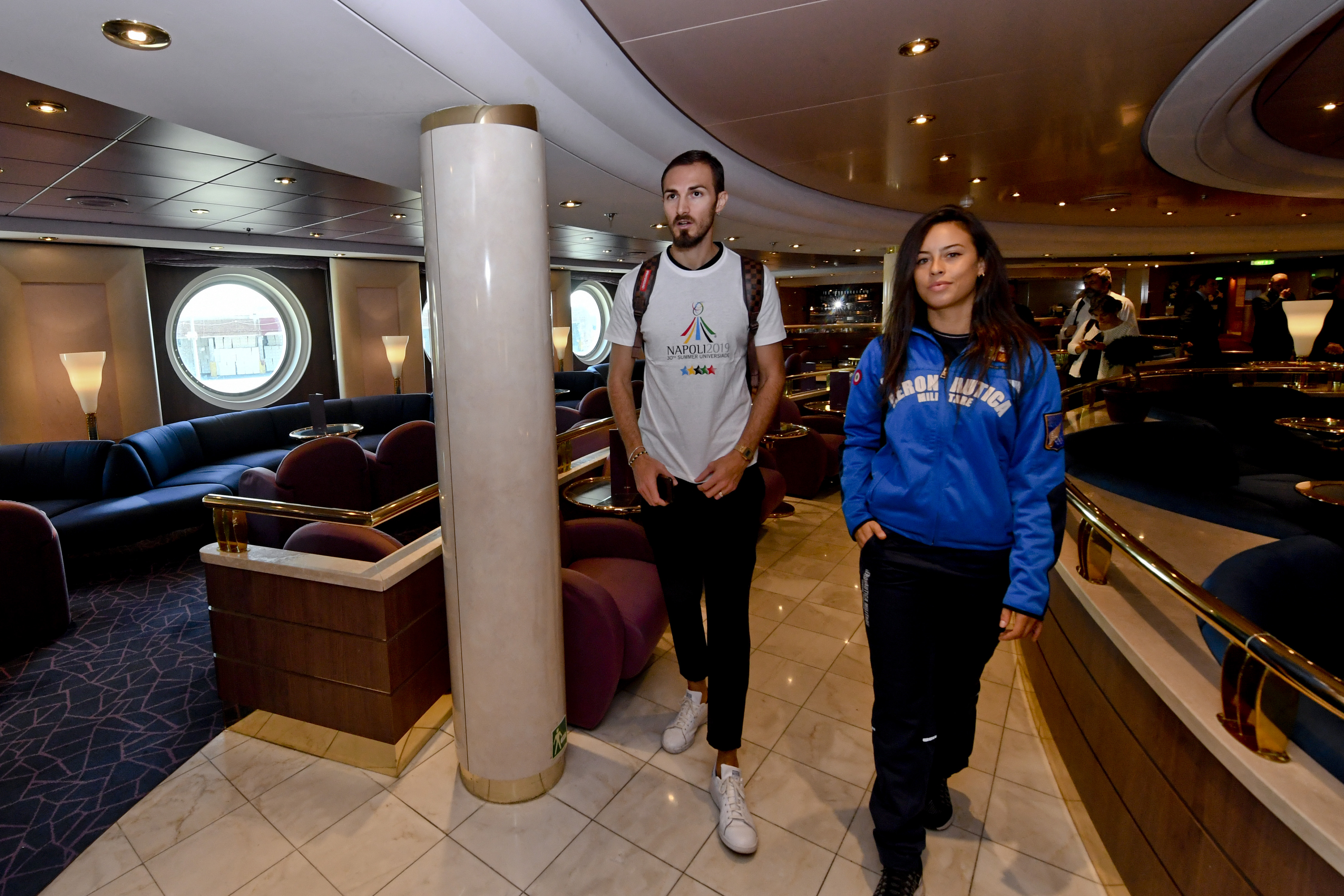 FISU Summer Universiade Director Marc Vandenplas toured the MSC Opera cruise ship on Friday as part of an inspection for the athletes' village at the 2019 Universiade World University Games in Naples in July, and said, with a few changes, the ship "will be perfect" for hosting 2,000 athletes. "We will be able to have the best conditions for preparing the Universiade," Vandenplas said. Vandenplas headed a delegation of the International University Sports Federation that toured the ship, inspecting staterooms, medical areas, entertainment areas, and sport facilities.
At the end of the tour, the delegation spoke with MSC directors about optimising some spaces, but overall it was satisfied with the inspection. "It was a very useful visit," Vandenplas said.
During the visit there was also a small unexpected hiccup that ended well: a member of the delegation left a small rolling suitcase on the pier, which was picked up by a passerby who delivered it to the Naples port police. The delegation appreciated this gesture, especially during a time in which they are planning for port security during the Universiade.
One of the decisions made on Friday that will be put into a formal agreement soon was that leftover food from the ships' kitchens will be donated daily to charitable organisations and soup kitchens during the Universiade.
Mauro Sarmiento, who won a silver metal for Italy in taekwondo at the 2008 Beijing Summer Olympics, said the athletes' village at the 2019 Universiade World University Games will be a "treat" that the athletes will appreciate. "They will be focusing on the Games but also feel like they're a bit on holiday", Sarmiento said. The former taekwondo athlete toured the ship together with Italian fencer Rebecca Gargano, who will participate in the 2019 Universiade.
The two athletes toured the cabins that will accommodate the athletes, as well as common areas and the ocean-view gym facilities.
Gargano said when she told her foreign athlete friends that part of the village would be hosted on cruise ships, they were "all enthusiastic. They can't wait to come to Naples, both for the beauty of the city as well as the cruise ships – she said – I already participated in the Universiade in Gwangju and Taipei. The organization was excellent, and the athletes' villages were in large university buildings. But here with the ships the atmosphere will be amazing; in fact, I'd like to stay here. The athletes' village is an important meeting place, where you make a lot of long-lasting friendships with athletes, trainers, managers. It's a life experience that goes beyond sport. The Universiade Games are like the Olympics, but with less pressure, even though Naples 2019 is important because it's a decisive step towards the Olympics, where I hope to be," Gargano said.