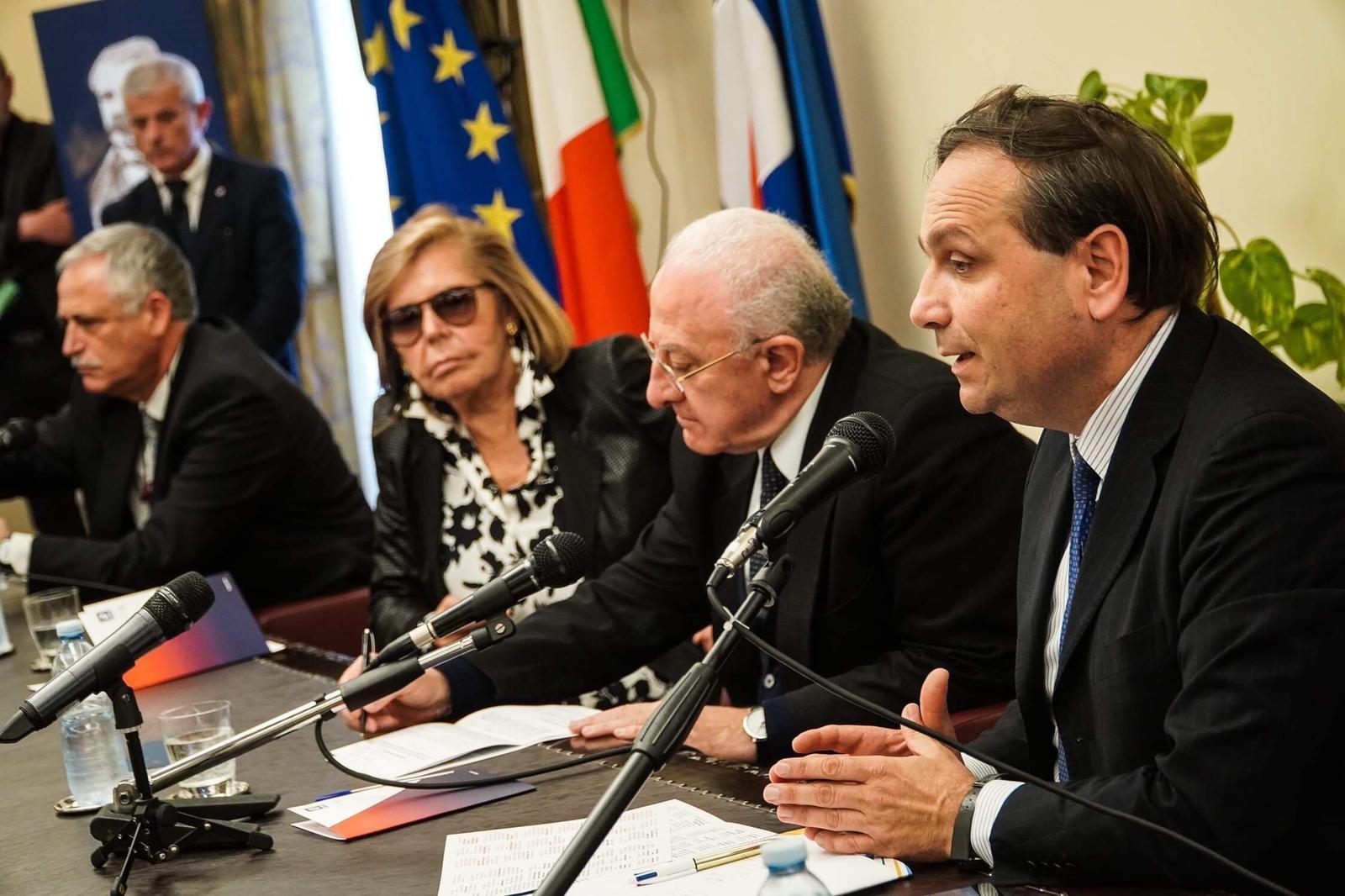 The press conference held this morning at Palazzo Santa Lucia in Naples (the Regional Council headquarters) aimed at showing the wide range of cultural events organized on the occasion of the Universiade Napoli 2019, which will take place from 3rd to 14th July throughout the territory.
The scheduled events are about thirty: From the 'MANNiversiadi', an exhibition dedicated to athletes in ancient times at the Mann Museum from June 30th, to 'Scugnizzi in vela', a sail crossing in collaboration with the Center for Juvenile Justice, including Ravello festival and Roberto De Simone.
The events meet everyone's tastes. From June 29th, the Museo di Capodimonte will host the Jimmie Durham's retrospective exhibition, while the Cameron Carpenter's concert will take place in Salerno on July 5th. Moreover, Avion Travel will play their music at Belvedere of San Leucio in the province of Caserta on July 7th; Alice will sing at the Royal Palace of Naples as part of the Napoli Teatro Festival Italia on July 8th. On July 12th the Cavalleria Rusticana will be performed in Ravello accompanied by étoile Sergei Polunin's dance steps.
"We will also see Castel dell'Ovo burning – explains the Cultural Heritage Managing Director of Regione Campania Patrizia Boldoni – and the torch bearers' historic marathon".
Besides, the athletes villages will have the so-called "Casa Campania", a place of interest with a lot of services, including show cooking with master pizza makers explaining the art of pizza.
"In those 15 days – said Governor De Luca – we will have the eyes of the world on us and I am pleased to be able to give a different image of Naples.  We will organize initiatives in popular neighborhoods, there will be exhibitions and valuable artists who will perform. I would like Neapolitan young people to understand what their true identity is, made up of history and culture. We will give an example of efficiency and a beautiful message of serenity that all our country needs." Besides, the Governor confirmed the participation of the Head of State at the opening ceremony on July 3rd at San Paolo Stadium
The Universiade Extraodinary Commissioner Gianluca Basile was satisfied: "We are presenting an important plan that was unthinkable up until one year ago. We are teaming up with the local bodies involved, despite the limited time available. This cultural program raises the quality of the event. Our job consists of facilitating athletes and carers so that they can enjoy the events program".
"The challenge – said the Council Member for Tourism of Regione Campania Nino Daniele – will consist of being adequate guests. We will do our part also by collaborating for other activities on the agenda. The message of the Universiade, through sport, is already  a cultural one itself. The Universiade will be a great showcase, not only of history and traditions, but also of the current buzz of a city like Naples that boasts places of extraordinary creativity".