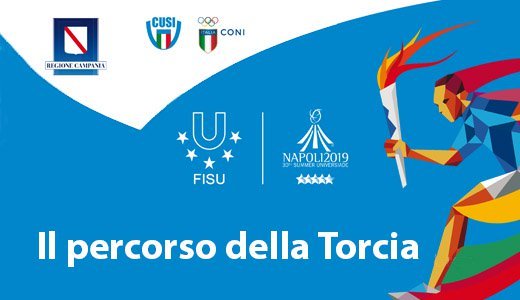 On Monday, June 3rd, exactly thirty days before the start of the 30th Summer Universiade Napoli 2019, the Organizing Committee and CUSI will present the Torch Relay for one step closer to the event taking place from 3rd to 14th July in Naples and Campania.
The lighting of the Torch has always been one of the most evocative moments of the University Games. Its passage into the heart of Italy, from Turin to Naples, is certainly one of the most spectacular and engaging events that will prelude the Universiade.
The route details, the torch-bearers and the collateral initiatives will be shown during the press conference on 
Monday
3rd at 10.30 am, at Sala Italia of Mostra d'Oltremare in Naples. Among others, the Extraordinary Commissioner Gianluca Basile, the ARU Institutional Area Manager Annapaola Voto, the President of CUSI Lorenzo Lenten and the Vice President of Regione Campania Fulvio Bonavitacola will take the floor. Moderated by Gianfranco Coppola.