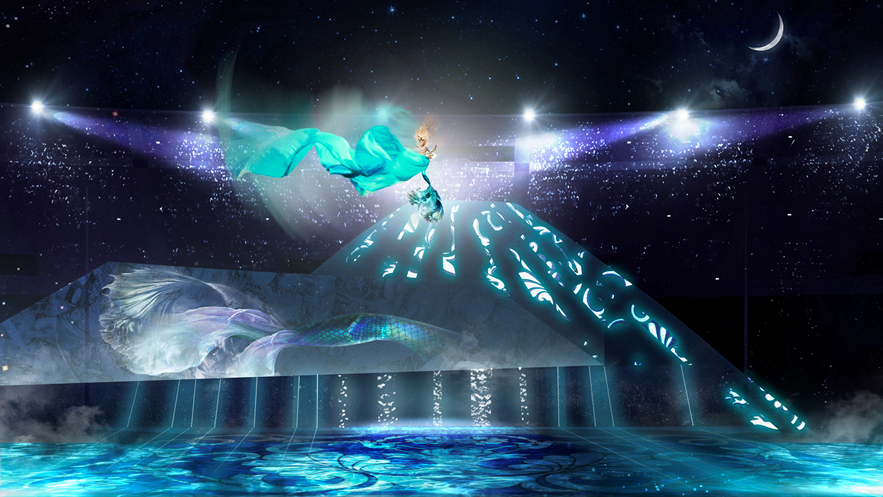 Mariafelicia Carraturo, Neapolitan world record freediver, will interpret the Siren Parthenope featuring the opening segment in the Inaugural Ceremony of the 30th Summer Universiade at San Paolo Stadium on 3rd July, created and produced by Balich Worldwide Shows.
With her heartbeat and the strength of her lungs she will move forward in the field of play with a silver tail 60 meters long, while the stadium will turn into the Gulf of Naples thanks to special effects,
The mermaid who rules the abyss is Mariafelicia Carraturo, 48, descendant from the homonymous Neapolitan confectioner dynasty, who established last August a new CMAS (Confédération mondiale des activities subaquatiques) world record in variable weight apnea with monofin, going down to a depth of 115 meters in 3 minutes and 4 seconds.
"I feel honored - she says enthusiastically - to represent Parthenope. My goal is to send a message to young athletes, a spur to all those who have a destination, a dream or a purpose".
The Neapolitan athlete, in fact, took her first freediving class at the age of 36, but she devoted herself with passion and determination only at 40, discovering a real talent for this sport. Since then she has set many records: six Italians and one world record in 4 different disciplines. Furthermore, no other Italian woman of her age succeeded in setting a world record.
"I have changed a negative moment of my life - tells Carraturo - into an opportunity: My journey from the abyss to renaissance led me to become an athlete at 40, after having two children and dealing with a separation. A complex path that helped me to find my dimension with enthusiasm and willpower. Even for the Universiade it will be the same, nothing is impossible and Naples can win this challenge. I am proud to interpret the rebirth of my city and I hope I will be a source of inspiration for all the young people who want to take a challenge".
From 3rd to 14th July, Naples and Campania will receive over 9,000 athletes coming from 127 delegations, ready to set new records. "Sport is a value - says Carraturo - that should be learnt and carried forward since childhood. I wish the meaning of the Universiade, where study and sport are combined, could be understand. Where institutions do not intervene, sport bring people together in a single hug, a bit like the Gulf of Naples".