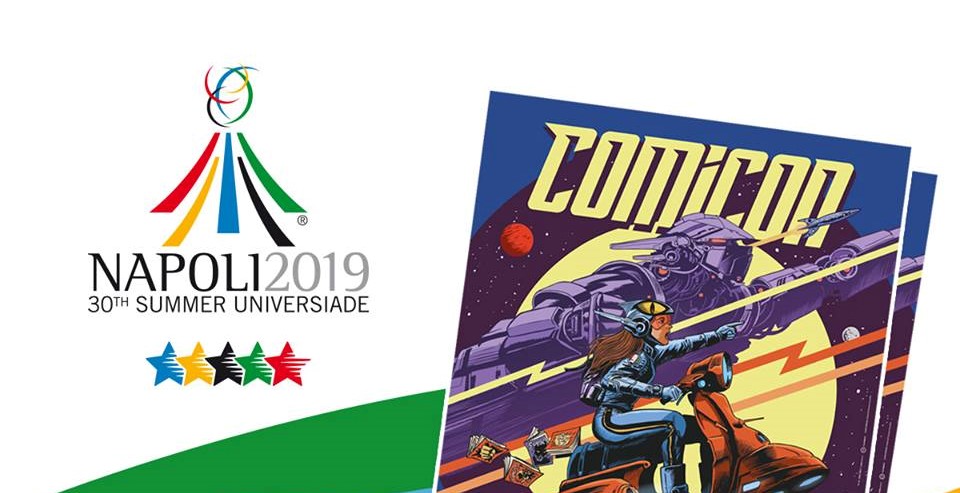 The Universiade Napoli 2019 is taking part in one of the most popular International Comic Book Convetions: The Comicon 21st edition, hosted by Mostra d'Oltremare from 25th to 28th April.
Three Universiade desks will be positioned within the fair, two of which in the area in front of Teatro Mediterraneo and one close to Pavilion 3, where it will be possible to get information about the event and receive free gadgets. Different activities in collaboration with the Federations of shooting, judo, taekwondo, football, rugby and archery are scheduled to involve the audience. On Saturday 27, in the Neverland area around Fasilides Lake, judo and taekwondo athletes will entertain people with flash mobs.
In harmony with the spirit of the convention, the Universiade mascot, Partenope, will join Comicon too: Her name comes from the mermaid recognized as symbol of Naples, weaving together with legend, history and mythology. The Partenope mascot is a gymnast with a fishtail turning into two scaly legs that allow her to run, jump, dance just like an athlete.
Within the survival kit reserved to the 15,000 Comicon subscribers, people will find a free coupon to be converted into a ticket for a free-choice competition, showing it at the Universiade ticketing points of sale. A discount will be applied by showing the Comicon ticket at each Universiade points of sale.