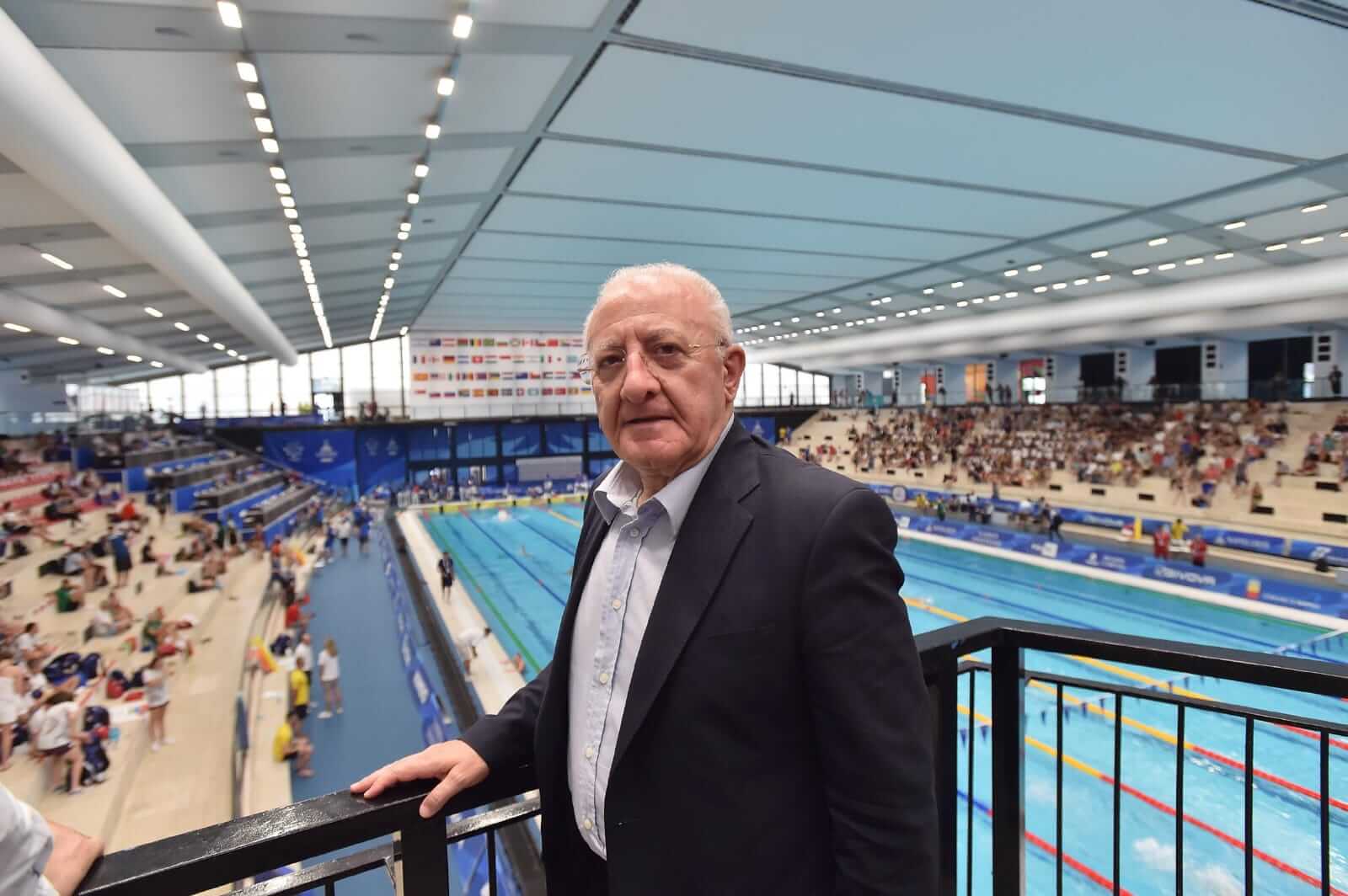 Vincenzo De Luca, President of Regione Campania, attended the swimming finals held at Scandone in the afternoon. Accompanied by Extraordinary Commissioner Gianluca Basile, President De Luca first congratulated the venue's staff and the volunteers of the 30th Summer Universiade Napoli 2019, then he enjoyed the special event. "Seeing young people crowding the stands was extraordinary – declared President De Luca – and so was the Scandone swimming pool, where an incredible job has been done in record time. I want to thank everyone: the workers, the company, ARU directors and all those who collaborated. Scandone, like the other 70 venues renovated with the funds from Regione Campania, now represents an heritage to be defended and safeguarded. And we will surely do that".
The President of Regione Campania reached the venue in the company of Massimiliano Rosolino, Neapolitan record swimmer with 60 medals won in his career and Olympic champion in Sidney 2000. The Napoli 2019 Ambassador visited the venue, supporting the Italian national team and taking pictures with fans. Thanks to the investment of around 6 million euros that allowed, among other interventions, the realization of the outdoor Olympic pool, Scandone is one of the jewels of the Universiade. Many people crowded the stands, registering sold out in the swimming pool located in Fuorigrotta and confirming once again Neapolitans' passion for water sports.
"We won the bet, and credits must be given to Regione Campania and the Organising Committee for having believed in the possibility of organising a multi-sport event like the Universiade in Campania. The legacy of sports venues left by these Games has nothing to envy to other better equipped Italian sport centres," continues Rosolino. "Being an athlete from Campania, I hope we will be able to host other international events in our region after Napoli 2019. We have facilities and competent professionals. The massive turnout at the venues proves that man does not live on football alone and this is a priceless heritage to transfer to the new generations ".