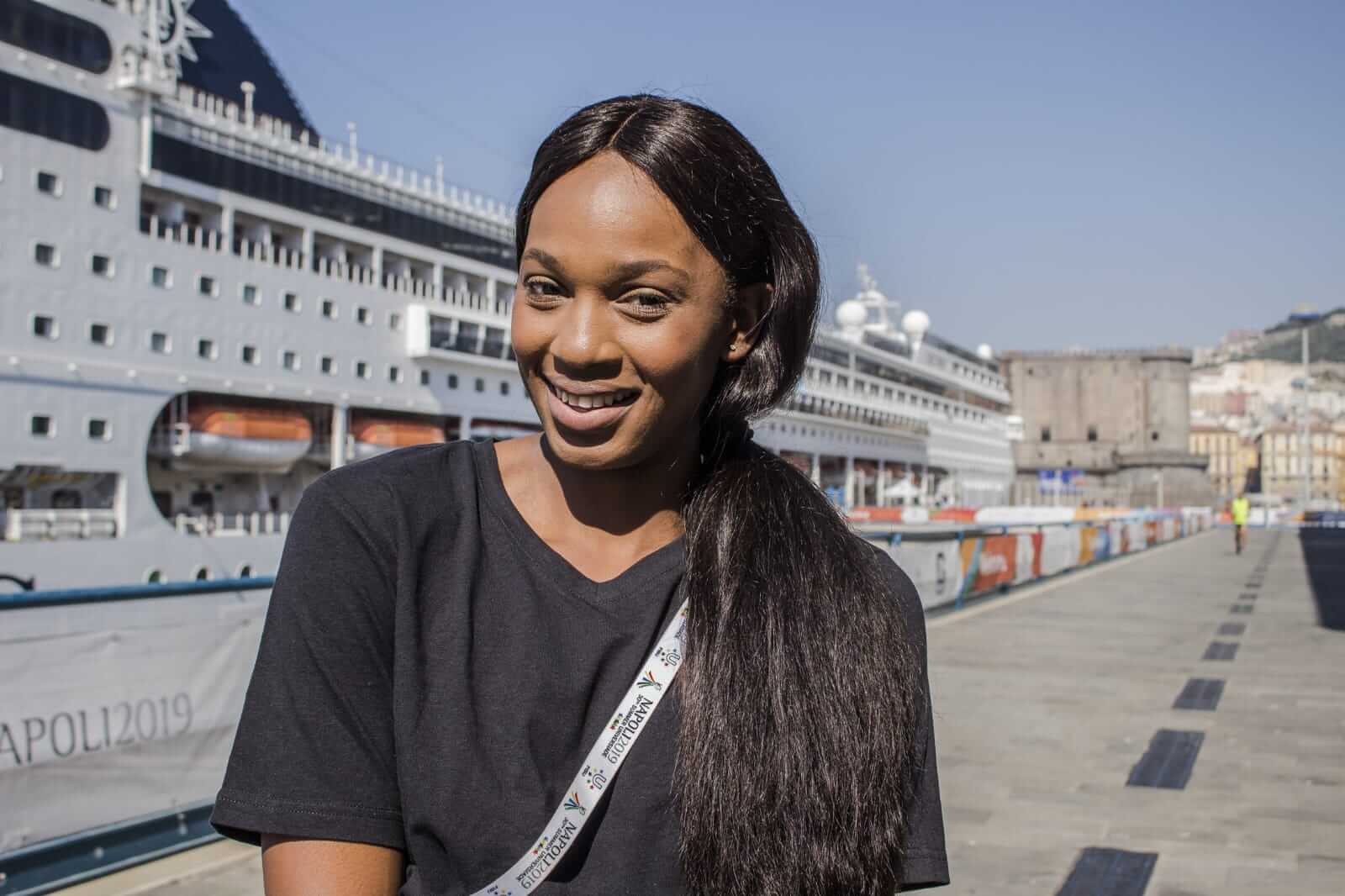 "Dear Neapolitans, I want to thank you all once again for your love, you are wonderful. I look forward to seeing you at San Paolo Stadium for the athletics competitions. Competing in this extraordinary stadium will be very exciting". 25-year-old high jump athlete Erika Nonhalanhla Seyama has already been elected the most beautiful girl for her smile, captured by the cameras as she paraded with her delegation during the 30th Summer Universiade Opening Ceremony. Erika is from the Kingdom of Eswatini (known as Swaziland until 2018), a small southern African State bordered by Mozambique and South Africa, and she is going to compete in her specialty, high jump. In remembering the excitement of the unforgettable night of July 3rd, she says: "The audience's reception was amazing; dear Neapolitans, thank you for your love and support, you are amazing".
Erika has already been in Europe, but this is her first time in Italy and in Naples. "Coming to Italy - she says – is a dream come true. I love both Italian culture and Italian people, who are simply wonderful. When I arrived in Naples, I was instantly impressed by all the ancient buildings. The architecture here is very beautiful. I immediately fell in love with this place so rich in history". Since she has been focusing on training, Erika Seyama was able to see the city only from the buses connecting the port with the sports venues. "I will finally go for a tour of the city today, and I am very curious".
The athlete from Swaziland then talks about her experience aboard the MSC Lirica, one of the two cruise ships hosting the Athletes' Village of Naples. "At the beginning it was a little strange, because whenever I had to board a ship it was always to start a journey. By the way - she continues – I often ended up arriving late for embarkation and miss my ship. Thankfully, there is no such risk this time – Erika smiles – I can say that this Athletes' Village will be a unique experience.
Participating in this competition - she says - also means interacting with many peers from all over the world, with the possibility of meeting different cultures
and people. It goes without saying that, right now, we are focused on competitions: on July 8th I will be at San Paolo Stadium for qualifications, hoping to be among the finalists on July 13th and jump higher than everyone else. After the Universiade, I will stay a few more days in Naples. There are so many places I want to see, both in the city and all throughout the region. My biggest wish is to come back here. But first I want to get qualifications for the Tokyo 2020 Olympic Games".