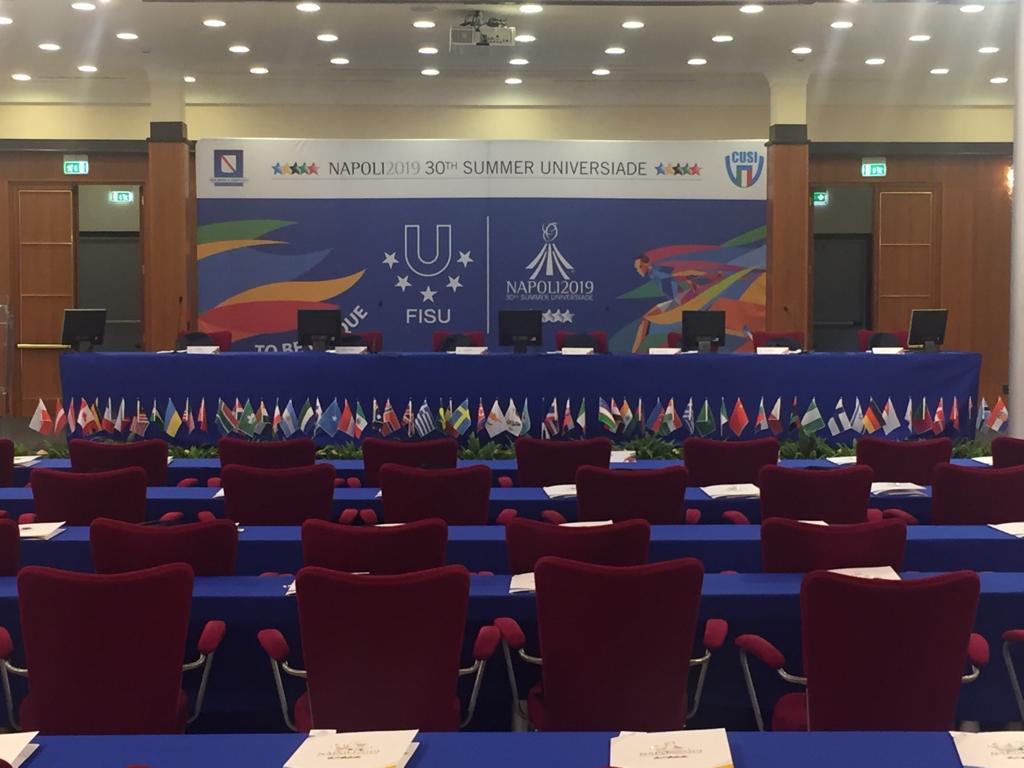 The calendar of the competitions of the 18 sports disciplines registered in the 30th Summer Universiade Napoli 2019 will be completed tomorrow, with the draw for the combination of the women's and men's team sports tournaments: Football, water polo, basketball,
rugby, volleyball.
The FISU Secretary General Eric Saintrond will direct the draw operations from 1.30 p.m. at Stazione Marittima in Naples during the final session of the Heads of Delegation Meeting.
 The draw will be carried out through the use of two crystal ampoules: One will represent all the sporting disciplines, while the other one will represent the countries. The combinations will then be illustrated on magnetic boards with stickers symbolizing the participating countries. It will certainly be an exciting and interesting moment for the delegates who, after the inspections of the sports venues and the Athletes Village, will bring to their countries all the tools and necessary information to prepare for the event in the best possible way.
Different sports celebrities will take part in the draw operations: For women's basketball, Mabel Bocchi, with over 120 appearances in the Italy National team. For women's football there will be Valeria Pirone, striker in Chievo Verona and Italy National team; for men's football, the Napoli goalkeeper Alex Meret, who plays in the Italy National under-21 football team. For women's water polo, the final decision was Alessia Morvillo from the S.C. Flegreo (Serie A2), already with the Italy National team in the Taipei 2017 edition. Massimo Di Martire from Circolo Posillipo will represent men's water polo. For men's volleyball there will be Giacomo Giretto, who won in the 1994 World Championships, and for women's volleyball Martina Ferrara, Polisportiva Due Principati Volley, Baronissi, Serie A2. For women's rugby there will be Giordana Duca, star of the Capitolina and the Italy National team; for men's rugby Diego Varani, former captain of the Italy National Rugby Sevens.
At the end of the draws, a press conference with media is scheduled for 6.00 p.m.