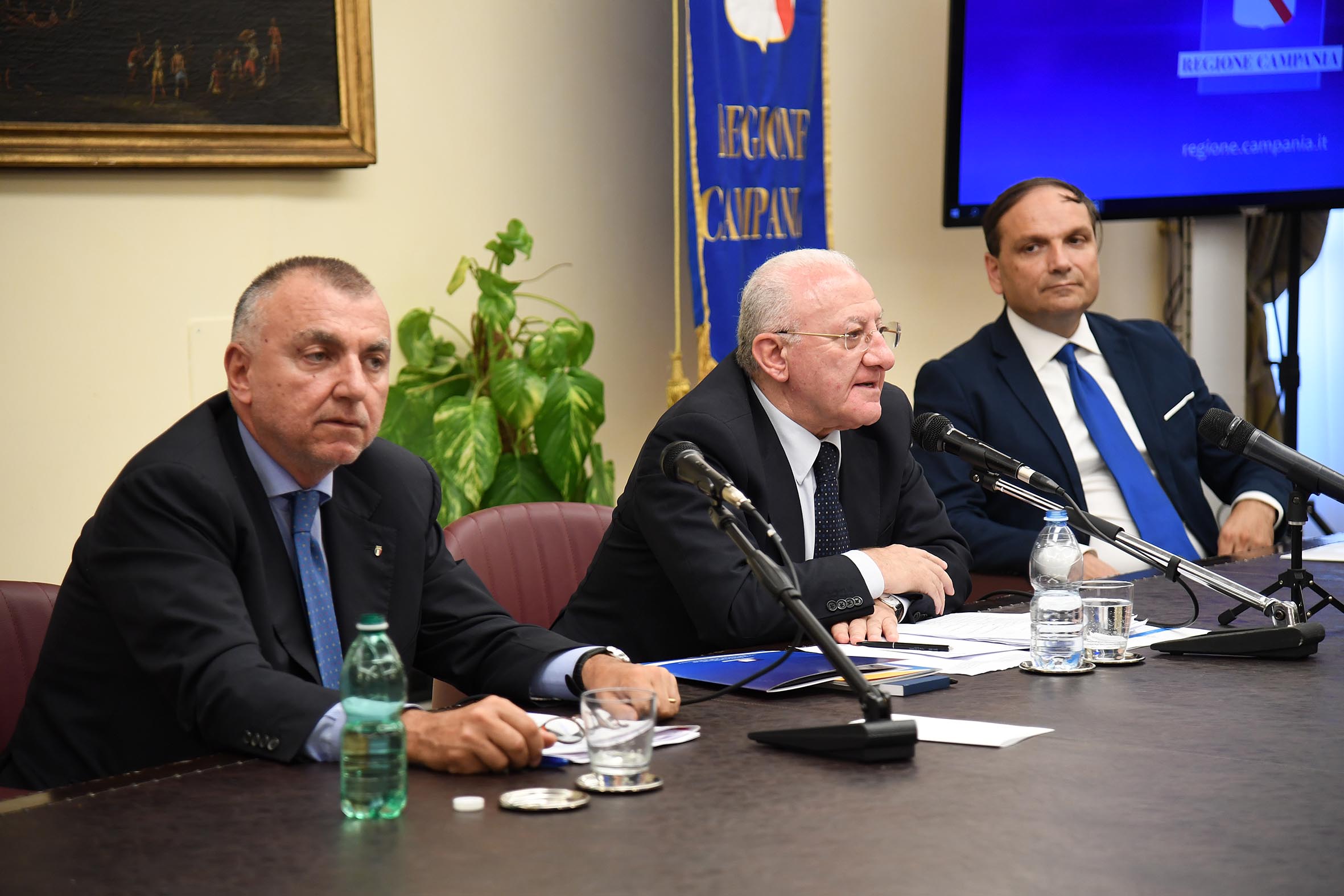 "Universiade brought a wave of pride for Naples and Campania. We succeeded in accomplishing this challenge even if many did not believe it, since organising events such as this in Italy is a miracle", said this afternoon president of Regione Campania Vincenzo De Luca during the wrap-up press conference of the Napoli 2019 Summer Universiade, held in "sala De Sanctis", at the headquarters of Regione Campania. The 30th edition of the event ended last Sunday in San Paolo Stadium, with the Closing Ceremony and a parade of delegations from every participating Country.
Among the attendees, president of Cusi Lorenzo Lentini and ARU Extraordinary Commissioner Gianluca Basile examined data and numbers of the event, which involved 6.000 athletes from 118 Countries competing in 18 different sports disciplines. More than 8.000 people have been hosted in 3 Athletes' Villages located in Naples, Caserta and Salerno, with 120.000 accredited guests and more than 4.500 volunteers employed in the organisation of the Event.
"Compared to Taipei, which hosted the Universiade in 2017, Campania's organisation can be considered cutting edge", said governor De Luca with a pinch of pride. "We wanted to express our gratitude both to Naples and Campania, because we are proud of what has been accomplished".
There have been important outcomes from an economic perspective as well. "We counted 40.000 extra tourist visits related to the Universiade – explained De Luca – and Confcommercio (Italian General Confederation of Enterprises, Professions and Self-Employment) registered a 20% increase in purchases, compared to the previous year, and a 10% increase in revenues. Federalberghi Campania (a section of the Italian Hotels Association focusing on Campania region) tells us that 90% of the hotel facilities in the region have been booked. These data represent a turning point for our territory".
This Universiade also had an important social and symbolic meaning. "We gave young university students, the future ruling class, coming from Countries that are currently at war with each other the chance to meet, as it happened to Israel and Iran", reminded De Luca. "In addition to that, the "MiniUniversiade" (of which a small delegation also attended the conference, ed.), where thousands of kids have been involved in sports activities through parish churches and youth centres in the suburbs. We aim to build a great youth movement from which Campania's redemption will start".
"A great success", in the words of ARU Extraordinary Commissioner Gianluca Basile, who reminded how "256 million euros out of the 270 invested by Regione Campania have been spent. In particular, 129 million euros have been allocated to goods and services, while 127 to venues. 60 venues were renovated in less than ten months and we invested 4 million euros in brand-new sports equipment". President of Cusi Lorenzo Lentini also cited the great effort made to carry out the interventions. "It would be a crime – concluded President De Luca – to waste these beautiful restored venues. We need to take care of them, as they represent an opportunity for our region to reach a higher level".