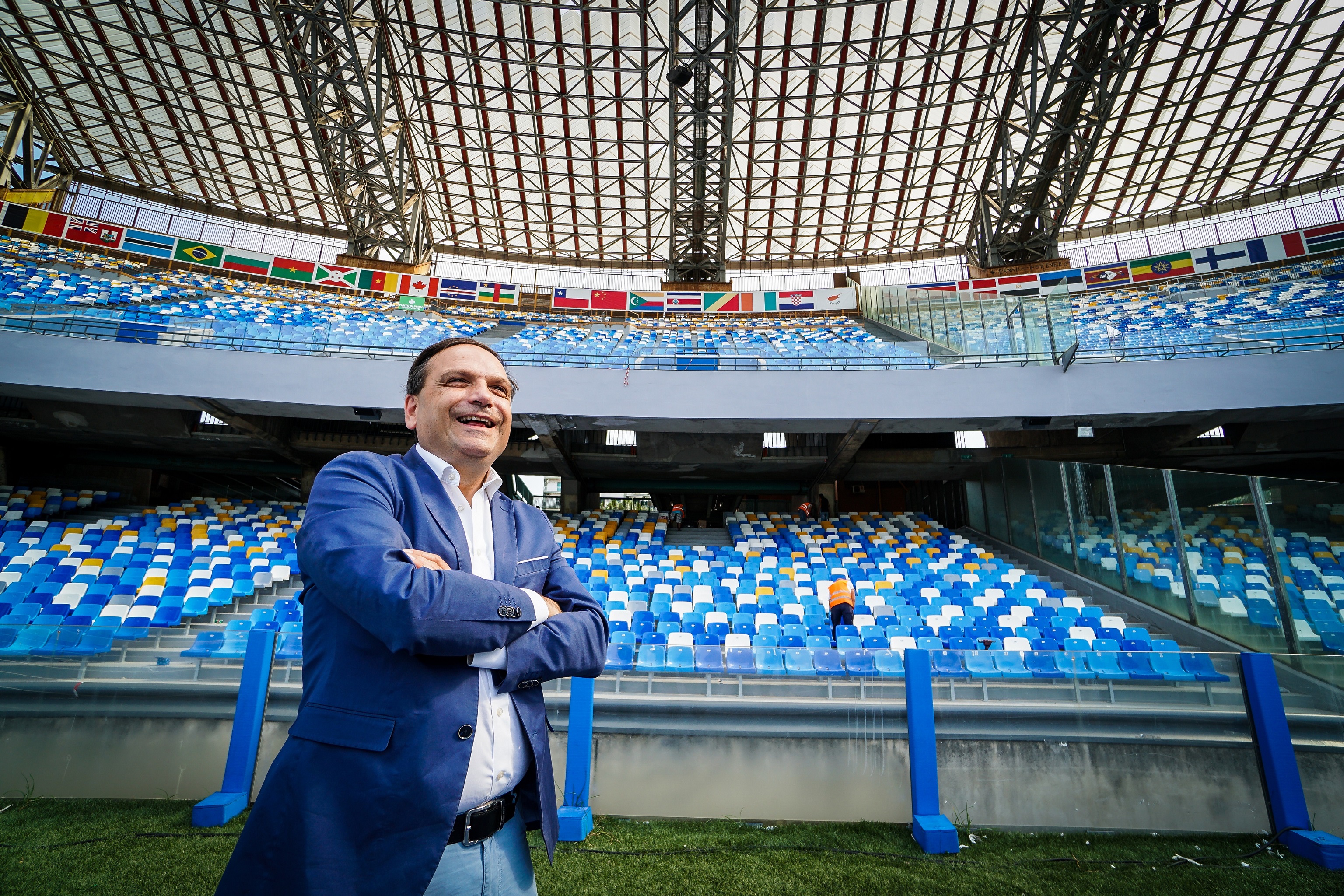 With the placement of the remaining seats – about 5,000 out of 54,000 – in the lower level curva B, the restyling of San Paolo Stadium in Fuorigrotta for the Napoli 2019 Universiade, has officially concluded.
After the extension of his term of office until December 31st, Extraordinary Commissioner of the Universiade Gianluca Basile visited the venue located in Fuorigrotta to attend the installation of the last seats. He was accompanied by Carlo Perego, legal representative of Tipiesse-Graded, the company contracted for the works.
"We are proud to have given the city, its football team and its audience a stadium that lives up to other international venues – said Commissioner Basile. "We followed the restyling process with great interest, which shows the importance of this venue, both in the sports domain and in the hearts of the people of Naples. Without a doubt, Neapolitans will be able to take care of this great legacy of the Universiade".
The same day, in a different part of the city, Scampia's Landieri Stadium saw the installation of the seats which were once part of San Paolo Stadium in Fuorigrotta. A gift that the Universiade, thanks to the free service from Tipiesse-Graded – the same company responsible of replacing San Paolo's seats – has offered the suburb of Scampia, which will be able to use a newly upgraded Stadium".
Twenty-two million euros have been invested by Campania Region to refurbish San Paolo Stadium for the Napoli 2019 Universiade. Beside seats replacement, the refurbishment works, including the construction of a new athletic track, the creation of a new audio-video system, the illumination system, and the renovation of toilet facilities, took months, in accordance with the schedule.
The renovation of the locker rooms and the video surveillance system still need to be completed, but they will be ready for the first home match of the Napoli team for the upcoming football championship, which will take place on September 15th, against Sampdoria.