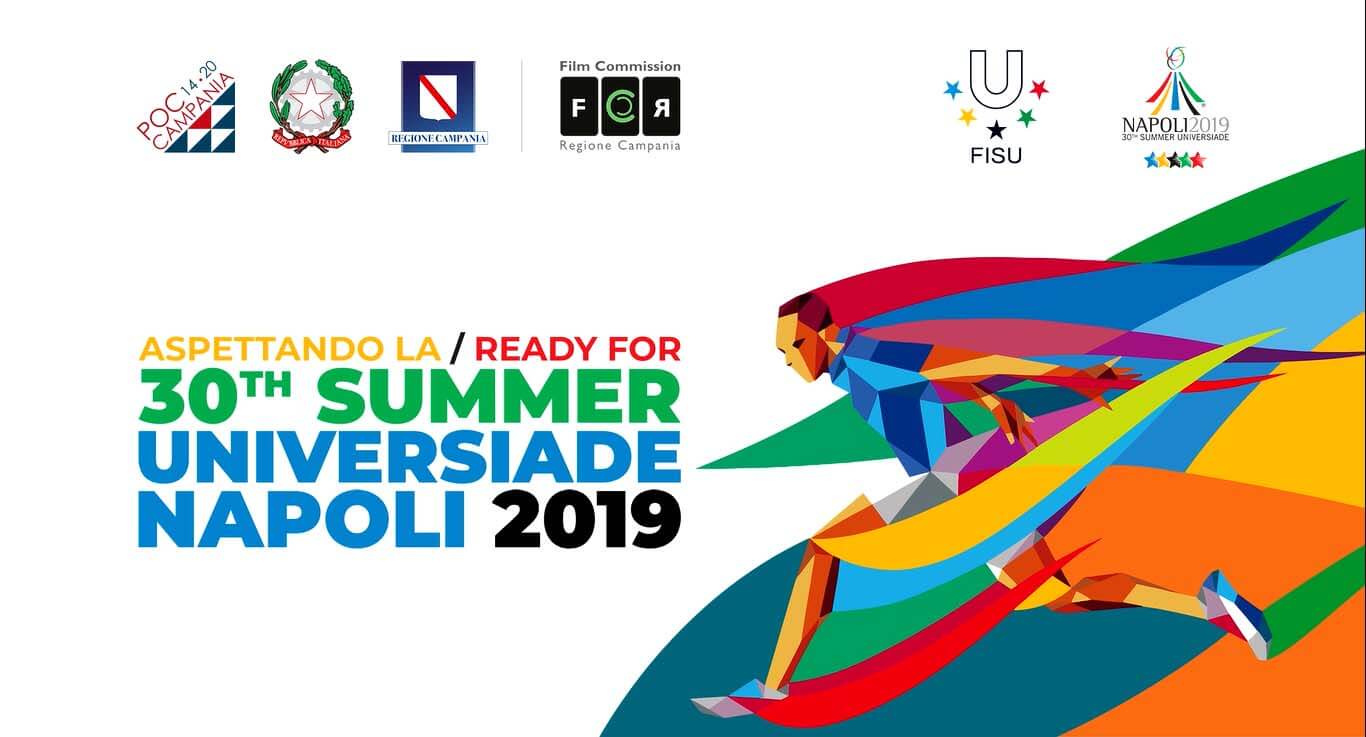 Sports venues coming back to their splendour, torchbearers running with the Torch, exciting moments of enthusiasm and sociality and fragments of the enchanting landscape of Campania: a few hours before the Opening Ceremony of the international event, a teaser (you will find a link to the video at the end of this press release) finally shows the first images of the movie "Ready For The 30th Summer Universiade Napoli 2019". «We are ready»: This is the message of the documentary film which reveals, in 30 minutes, the faces, places and emotions of a challenge that involved all five provinces of Campania.
The movie is directed by Francesco Patierno and produced by Film Commission, in-house Foundation of Regione Campania, which entrusted, through a public call, the realisation to Andrea and Alessandro Cannavale's Run Film company.
The 40 second clip, which will be followed by other short videos in the next weeks, is a preview of the documentary, created to serve as a memory of the collective effort produced for the event financed by Regione Campania.
The filming, which received a significant contribution by the Regional Agency for the Universiade (ARU) and FISU, tells the story behind the organisation of the event in a cinematographic way, through images of sports venues being refurbished, under preparation or still empty, the athletes' arrival, the hospitality, suggestive landscapes and contributions by some testimonials. But, first of all, the film captures the spirit of this joyful "marathon" which has united Campania through a sense of responsibility and pride, with a common objective: to be ready to meet the world.
While not neglecting the competitive aspect (all images of the competitions will be broadcasted in hundreds of Countries), the movie, which is scheduled to be released at the end of the Universiade, is particularly focused on "what happened before" and will conclude with the Opening Ceremony: a symbolic 'passing of the witness', narrating through images the feeling of anticipation before an encounter, either of the sport or the human kind.
A great productive effort for Run Film, which, just a few days before the event, has set in motion a complex filming "machine". «For Run Film – said the Cannavale brothers – it has been a unique experience. The enthusiasm of the people involved, all the energy gathered on the locations and the great understanding
with the director Francesco Patierno, will emerge through the wonderful power of those images. We hope this film will be able to contribute even more to the promotion of our beautiful Region throughout the World».
The teaser includes a preview of the documentary produced by Film Commission, directed by Francesco Patierno and with the executive production by Run Film. Link of the teaser: https://www.youtube.com/watch?v=sgRp4YCd2K0&feature=youtu.be