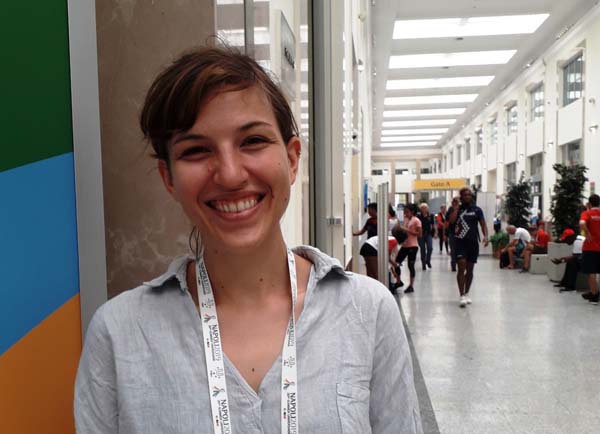 Among the over 900 professionals selected for the organization of the Universiade Napoli 2019, more than 30 come from abroad, both young and not so young. Some of them are from Greece, but also from Russia, Portugal, USA, China, Great Britain, Iran, Colombia, Belgium, Croatia. Karen Myers, a Londoner who has been living in Nice for years, works as Delegation Services coordinator. "I have been involved in sports events for 30 years - she explains - I started as a volunteer in 1988 at the Olympic Games in Seoul and since then I never stopped. This is my second Universiade in Italy". She also worked in the staff of 12 different Olympic Games. "I started this job when Primo Nebiolo was in charge of the Universiade. Without him, today the Universiade would not be the same. Nebiolo was a strong and authoritative sports manager, a great leader. Together with Juan Antonio Samaranch - President of the International Olympic Committee from 1980 to 2001 – his contribution was decisive in the development of both Athletics and Universiade".
As for the event's organization, Myers says that "it was not an easy task". We only had 9 months – she explains – and a quite reduced staff. Nevertheless the available resources did an exceptional job". To the young boys and girls willing to approach this career, she suggests to "start as volunteers, in order to acquire skills, meet new people and distinguish yourself. Afterwards, you need to choose the functional area which fits you the most: team service, delegation services, communication. Knowledge of foreign languages is essential, but the most important is being passionate in the work you do".
Aristea Klanac is one of the young professionals involved in the project. She is a student in communication design in Venice. Born in Rijeka (Croatia), she has been working in Napoli 2019 for two months in both Workforce and Delegation Services functional areas. "I am learning to work with many people. Each one of them has a different approach. Every day you need to find different solutions". About Naples she adds: "Since I arrived here I immediately felt at home. I met a lot of people. Not to speak about food: it's fantastic".